How to register the ARC at prepaid carrier?
After activating your SIM Card, We will email you the titled [Your prepaid SIM card is now activated].

At the end of that email, you can find the
blue button
with the ARC registering information.

1.
Click to open the link and click
REQUEST - I want to update my ID only.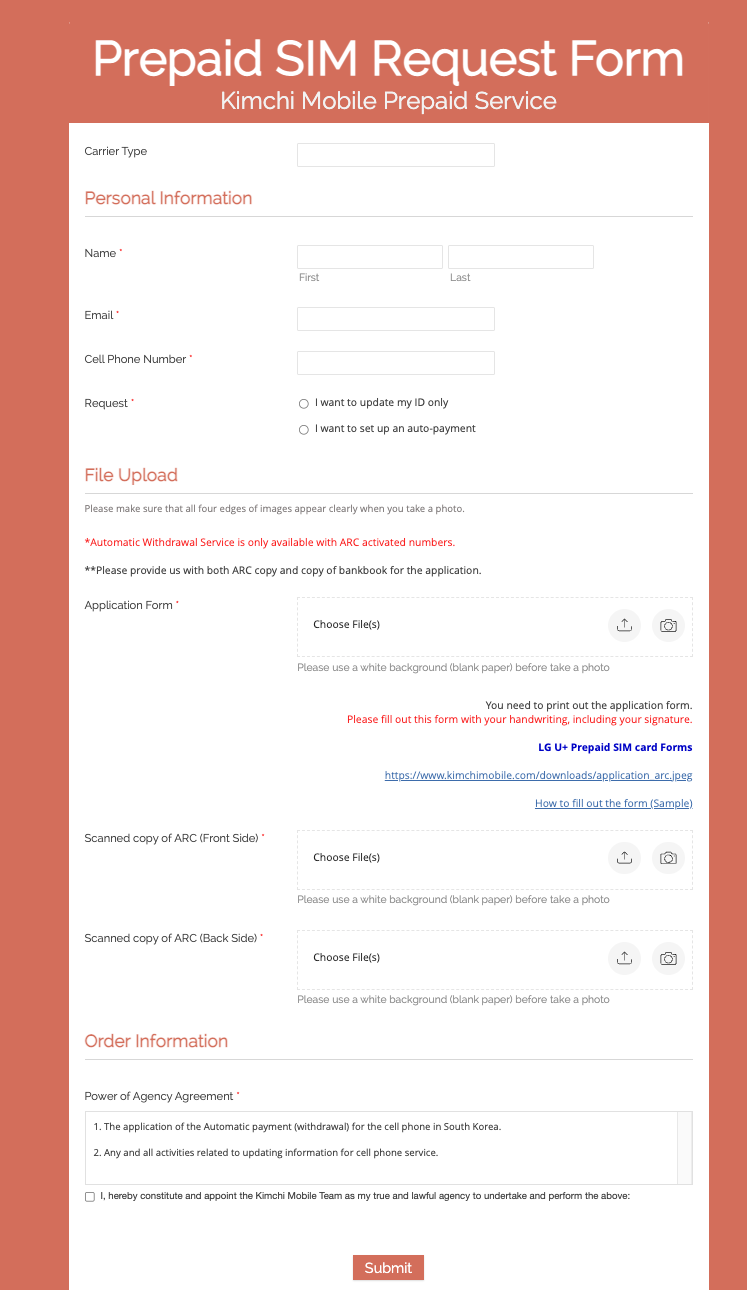 2.
Download your carrier registering the form and attach the form.
Make sure the application must be written in
physical handwriting
. NO digital writing.
Related Articles

i am using prepaid plan. Is ARC register means postpaid plan? Is that Autopay equal to Postpaid plan?

ARC register is for changing your status as certified resident in Korea. So that request at carrier center that extend your validity from 90days to permanent. If you do not register the ARC, after 90days your SIM card can be cancelled randomly by ...

How to register the AutoPay at prepaid carrier?

Every recharge completion email, you can see the [AutoPay] button at the bottom. Please click that button and submit your files for AutoPay setting. You need to prepare, - Application (Physical handwriting required) - Korean bankbook - ARC front ...

Prepaid SIM card type (Carrier type)

We have 2 carrier type. If your device is not compatible with the LG U+ yy, please select "SK eyes" for SIM card type. 1. LG U+ Prepaid Plan LG U+ SIM card is compatible with most devices manufactured in South Korea. Overseas Manufactured Samsung, ...

How to recharge my prepaid SIM card?

* With your prepaid SIM plan, you have to recharge your monthly bill every month. 1. SK 7 mobile Visit Kimchi mobile recharge center and pay your plan amount. https://www.kimchimobile.com/product/prepaid-sim-recharge-korea/ Your Plan Budget ...

How to verify my ARC card on the mobile with prepaid SIM card?

In the Korean ID verification system, your passport information will not match your ARC information. Any prepaid SIM card number (Actived using your passport) can't be verified online for internet shopping or food delivery in Korea. You must update ...