How to activate my prepaid SIM card?
There are 4 steps for activation. Please read the instruction below and submit your files via the reply email we've sent you.
Step. 1 Fill the application form
Step. 2 Take a picture

The application will be enclosed with your package




Write your Name, Nationality, Date of Birth, and Passport number



Write your

Full name (includes your middle name)

and signature on the side


Take a picture of your application with all corners to appear



HANDWRITING REQUIRED,

No digital handwriting like using iPad or mark-up app.



*Sample application photo -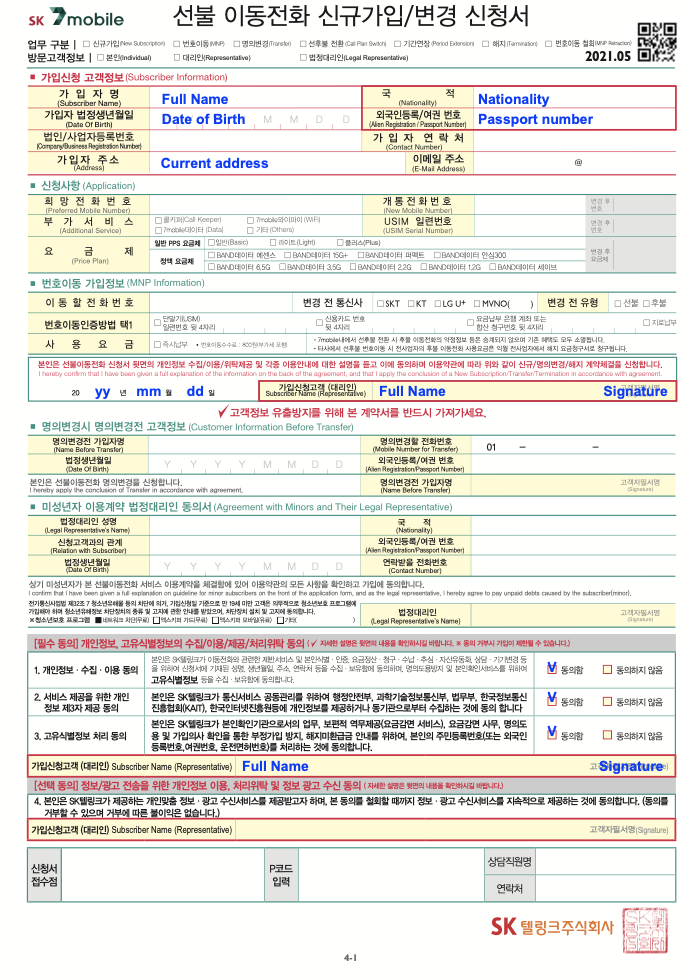 In order to activate your SIM card, a barcode and PIN number are required.

Take a picture of your delivered card

without taking off the SIM



Submit your files at the email to click the 'Request SIM activation' button.

When we verify your files, we will send you a confirmation email with your number include.

Insert your SIM into your device and reboot your device 2-3 times with wifi off.

.

.

.

.

Step 1. Open your email and click the button named 'Request SIM activation' to open the application form.

Step 2. Preparing all your Requirements and click 'Drag&Drop' to take a picture.

Step 3. Submit your form.
Related Articles

Can I change my prepaid SIM card to a contracted post paid SIM card?

Unfortunately, you can not change into a contracted SIM card. The number from the prepaid SIM card can not be transferred to a postpaid SIM card.

How to recharge my prepaid SIM card?

With your prepaid SIM plan, you have to recharge your monthly bill every month. https://www.kimchimobile.com/product/prepaid-sim-recharge-korea/ Visit Kimchi mobile recharge center and pay your plan amount. Your Plan Budget Basic Premium How ...

My SIM isn't working. What shall I do?

Please try the following steps: Please check if the Phone detects the SIM card Please check if there is a signal with signal bars.

Do I need to return my SIM card when finished using SIM service?

All the expired SIM cards do not have to return to us. However, 1. If you are using prepaid, you can dispose of your Prepaid SIM card because you can't use it after 90days. 2. If you are using postpaid, you have to cancel your SIM service ...

I left Korea without canceling my SIM service.

Even If you left Korea without canceling your SIM service, your payment is still deducted until you cancel your SIM service. When your contract is done, your SIM DISCOUNT PLAN is done, not for SIM service because the contract was for the 25% ...