How can I check my monthly bills or data usage?
There are 2 ways to check your monthly bill and data usage.

1. Data usage will be sent by SMS service.

ex) Your data has been used 50%

2. To check your mobile data usages, please use '스카이라이프' app (No eng support)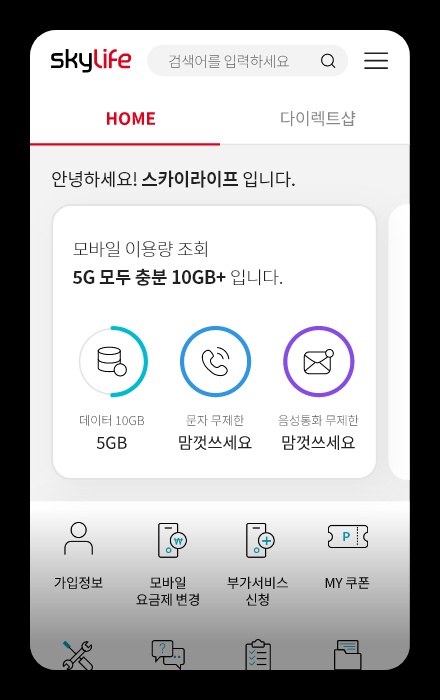 * Kimchi mobile as an activation agency, we are unable to support your cancellation or personal information required issues
Related Articles

How can I pay my monthly bills?

Monthly bill will be charged at the end of the month. But if your bank account does not have enough balance, money will not be withdrawn. What that situation, please contact Kimchi mobile or KT SkyLife carrier center directly. KT SkyLife carrier ...

My data doesn't work but I can make a calls.

Please check if you have successfully recharged your data Please check you have network settings as WCDMA only please turn off your 4G LTE and use only 3G turn on and off repeatedly. Phone models not offered in Korea may not be compatible with the ...

I needs to fix my device

Please try to contact one of the manufacturer's customer centers and find your nearest center to fix your phone. After Sales customer center information by manufacturers manufacturer AS Center Contact Remarks Samsung http://www.samsungsvc.co.kr/ ...

where to contact KT SkyLife customer center?

Customer center KT SkyLife carrier center: 1588-3002 or helpdesk@skylife.co.kr

How can I check my balance?

[How to check Prepaid SIM credit balance online] https://www.sk7mobile.com/cust/pre/myService.do (1) Insert Prepaid phone number to be charged then press the button on the right side. (Send Authentification Number) (2) Check your cell phone and Enter ...