How can I activate my prepaid SIM card?
You will receive an email and printed guidelines in your SIM card package. You can request SIM card activation then the Kimchi Mobile activation team will let you know a new Korean cell phone number.

The activation process may take 10~20mins and the activation process is available during our working hours.

10 AM ~ 5 PM KST
Monday ~ Friday

*Reservation may be required if you need an activation out of business hours.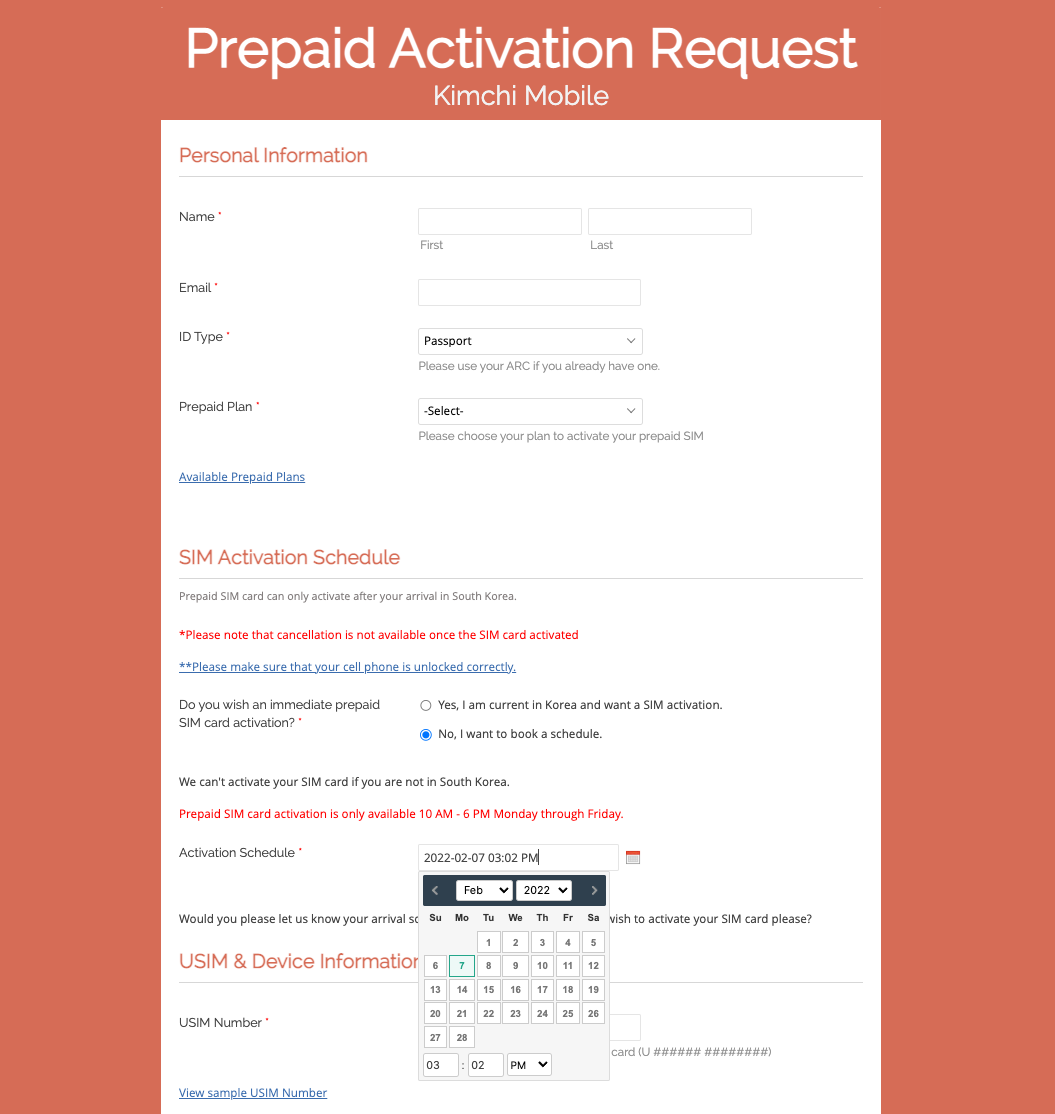 Related Articles

Can I change my prepaid SIM card to a contracted post paid SIM card?

Unfortunately, you can not change into a contracted SIM card. The number from the prepaid SIM card can not be transferred to a postpaid SIM card.

Can I activate my SIM card before EPIK arrival?

Unfortunately, we can't activation your SIM card before your arrival. We can only activate your SIM card after you pass the Korean immigration. However, you can request an activation and make a reservation in advance. Fill out the application form ...

How to recharge my prepaid SIM card?

* With your prepaid SIM plan, you have to recharge your monthly bill every month. 1. SK 7 mobile Visit Kimchi mobile recharge center and pay your plan amount. https://www.kimchimobile.com/product/prepaid-sim-recharge-korea/ Your Plan Budget ...

LG U+ Prepaid SIM card plan comparison chart

Name of Deal Budget Basic Premium Price ₩39,000 ₩55,000 ₩66,000 Total LTE Data Approximate monthly data 15GB/mo. ( No Additional LTE Data ) 71GB/mo. 11G + ( 2GB x 30days ) 150GB/mo. ( 5GB x 30days ) Daily LTE Data - 2GB 5GB Unlimited 3G Data Speed ...

I am a Korvia teacher, how can I get my promo code?

Korvia EPIK team will send you an email notification regarding the "promo code". Please try to contact the Korvia EPIK team or Korvia recruiter. https://www.kimchimobile.com/prepaid-sim-epik-korea-deal/ Korvia EPIK support channel