Can I activate my SIM card before EPIK arrival?
Unfortunately, we can't activation your SIM card before your arrival. We can only activate your SIM card after you pass the Korean immigration.

However, you can request an activation and make a reservation in advance. Fill out the application form and request your activation today!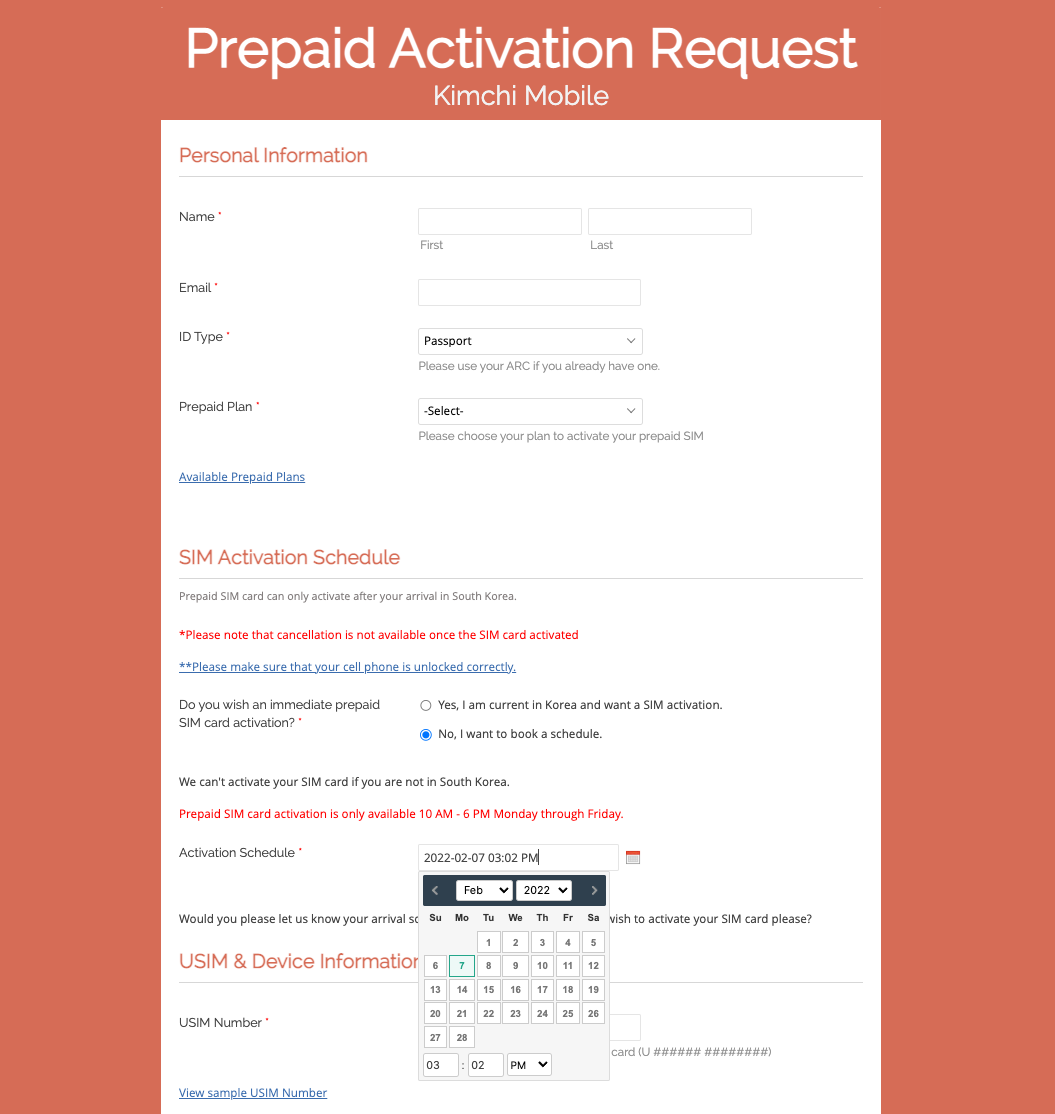 Related Articles

How can I activate my prepaid SIM card?

You will receive an email and printed guidelines in your SIM card package. You can request SIM card activation then the Kimchi Mobile activation team will let you know a new Korean cell phone number. The activation process may take 10~20mins and the ...

Can I activate Prepaid from outside of Korea? I want immediate activate after arrival!

No. You cannot activate the prepaid SIM outside of Korea. First, We request to review your current location at the Korean immigration office and if you are not in Korea, we will reject your order. If you sign up under someone else's name and use it, ...

If your phone states no SIM

1. Please check if the SIM fits well with the SIM card slot --> reboot required 2. Please check if the SIM card is not damaged in any way --> reboot required 3. Please insert it into another phone to see its detection --> reboot required If still ...

How to Activate the SIM?

Please follow the instructions below. 1. Print out the application form ※ Download ※ 2. Fill the form by handwriting (Digital handwriting is NOT accepted) *U-SIM number is on your SIM card (13digit) 3. Take a picture of your passport (or ARC front ...

I don't want to use the SIM anymore, how can I cancel the service?

Prepaid SIM card requires no cancellation. The service will automatically be terminated if credit recharge fails. If you want to use the SIM card again, you need to recharge credit within 30days. ...