Can I activate my SIM card before EPIK arrival?
Unfortunately, we can't activation your SIM card before your arrival. We can only activate your SIM card after you pass the Korean immigration.

However, you can request an activation and make a reservation in advance. Fill out the application form and request your activation today!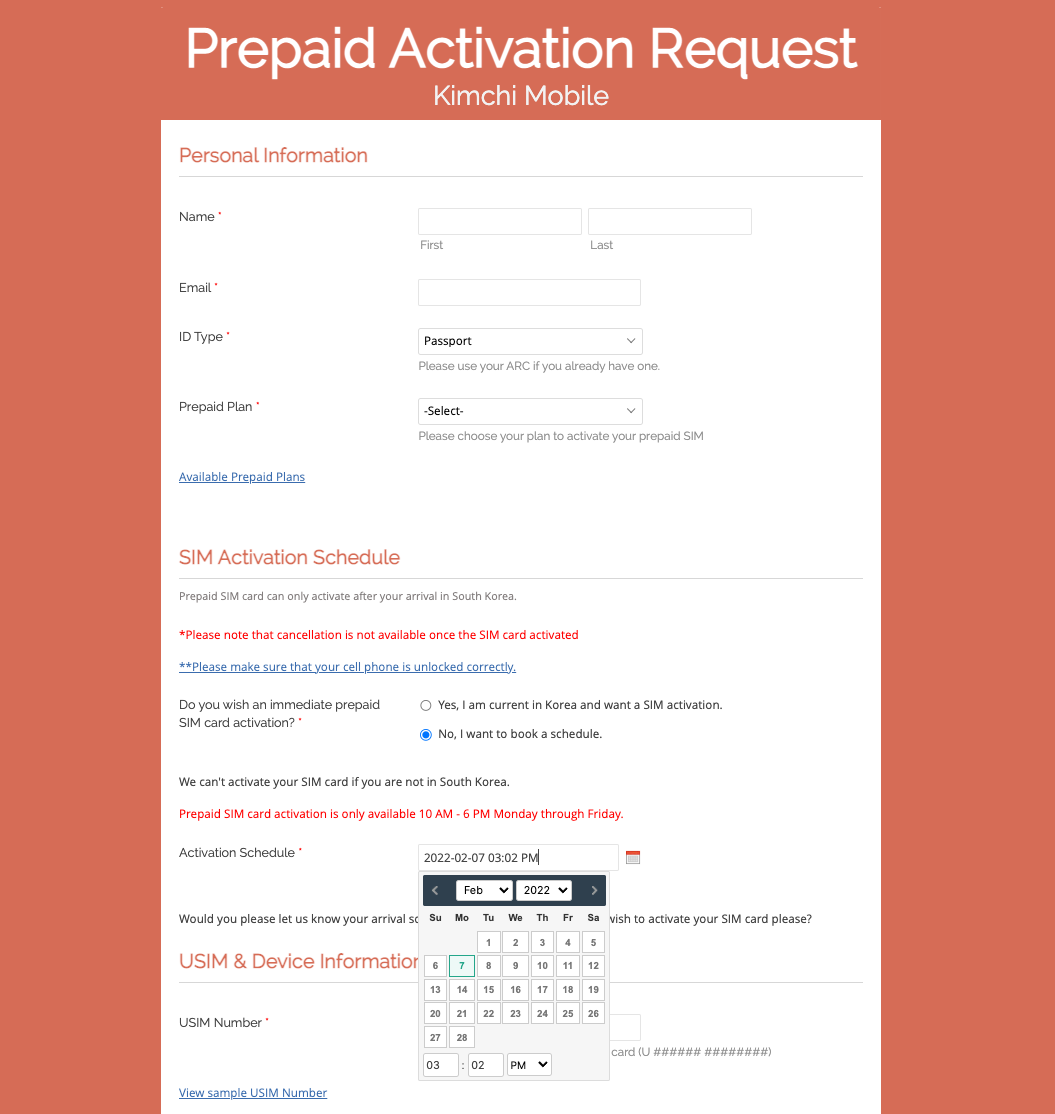 Related Articles

My SIM is activated but Data is not working

There's been a problem in Korea with international smartphones device (manufactured overseas) accessing prepaid MVNO SIM cards since January 2023. As a result of your device not being registered in Korea, your device may blocked to use any of MVNO ...

If your phone states no SIM

1. Please check if the SIM fits well with the SIM card slot --> reboot required 2. Please check if the SIM card is not damaged in any way --> reboot required 3. Please insert it into another phone to see its detection --> reboot required If still ...

How to Activate the SIM?

Please follow the instructions below. 1. Print out the application form SK eyes (attached below) (1) Write your Full name (2) Write your Date of Birth (3) Write your passport number (4) Write 025536216 (5) Address part. It must be in Korean and ...

Can I activate Prepaid from outside of Korea? I want immediate activate after arrival!

No. You cannot activate the prepaid SIM outside of Korea. First, We request to review your current location at the Korean immigration office and if you are not in Korea, we will reject your order. If you sign up under someone else's name and use it, ...

I received a Korvia welcome package sim card. How can I activate it?

Korvia teachers can now enjoy a special promotion and upgrade to Premium for free! Simply purchase our budget plan and pay only $39.99 instead of $64.99. To activate your SIM card, fill out the application found in the Korvia welcome package and send ...